Florence Crocker
1943-2022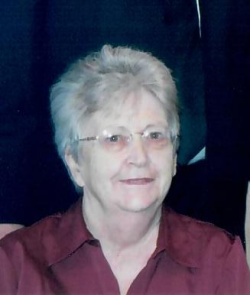 Passed away suddenly but peacefully at the Wilkinson Memorial Health Centre, Old Perlican, Florence Elizabeth (Percy) Crocker of Western Bay, aged 78 years.
Predeceased by her husband, Winston; parents, Maxwell and Myrtle (French) Percy; brother, Roy Percy; parents in law, Carson and Lorraine Crocker; and deceased members of the Crocker, Percy and French families.

Leaving to mourn daughters, Reverend Yvonne (Bill) Hopkins and Tracy Crocker; grandson, Wm. Reagan Hopkins;
aunt, Hazel Godden (New York); uncle, Clayton French (Brigus); niece and nephews, cousins and extended family and circle of friends.

Florence was born in Brigus and later with her family moved to St. John's where she finished high school, met her husband, married and began to raise a family. Having lived in Manuels, Newtown, and Mt. Pearl she found herself relocated to Western Bay after her husband died. She loved to work outside the home and made herself many work friends at such places as The Royal Stores, Cousins' Dry Cleaning, Electrolux and Sears. She was always up for fun and was known for playing jokes and pranks on the unsuspecting. She was passionate in her love for animals and treated them as her own children. In later years her health issues overtook her and she relinquished her zest for always having fun. However, her dry wit, inherited from her mother, remained, offering zinging one liners when least suspected.

Cremation has taken place. At her request there will be no visitation or funeral but a public service of committal will take place at a later date.

As an expression of sympathy, in lieu of flowers, a donation may be made in her memory to the Baccalieu Trail SPCA (info@baccalieutrailspca.net) or it can be passed along on your behalf.
>Click here to View Condolences