Alex Pike
1944-2022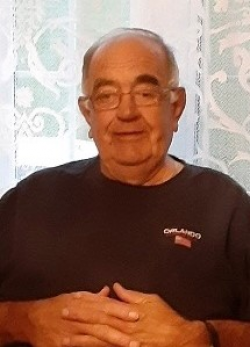 Alex John Pike passed peacefully away on Tuesday, February 1, 2022 after a short illness at St. Clare's Mercy Hospital, St. John's, aged 77 years.
He is predeceased by his parents, Simeon and Leah Pike; wife, Iris; daughter, Joanne; special friend, Annie Rodgers; and brother-in-law, Oscar Squires.
Leaving to mourn with lots of love are his grandchildren, Matthew (Delechia) and Samantha (Tyler); great granddaughter to be, Mila (in route);
son-in-law, Tony Oliver; brother, Chesley (Maisie); sisters: Joyce (Lionel) Strong, Judy Squires, and Nita (Wayde) Hopkins;
a number of nieces and nephews, extended family and great circle of friends.
Alex was born a true Old Perlican boy and dedicated his life to many organizations in his community. He was one of the early members of the Old Perlican Volunteer Fire Department, a member of the Old Perlican Town Council, and a member of the Old Perlican Harbour Authority. He was a dedicated member of his church, serving on the Board of Management and the Official Board. He especially loved being a part of the St. Andrew's By The Sea Men's Fellowship where he got to do something he loved, cooking. He will always be remembered for his famous "Christmas puddings" which he made for their annual Christmas Supper. Alex was also a devoted lodge member serving Cabot LOL#49, and RBP#1129 and the Masonic Lodge, of which he was a member for many years.
Alex was a well known fisherman who spent a lifetime at sea. His boat, the "Iris and Joanne" which he has owned for many years sits at the dock in Old Perlican.
Alex was a good husband, a wonderful father and father-in-law, a loving and devoted grandfather and was "over the moon excited" to begin his role as a great grandfather to baby Mila, who is due in March. He was also a very caring and loving brother, uncle and great uncle and a great friend to many.
Resting at Hopkins' Funeral Home, Old Perlican with visitation on Thursday, February 3, 2022, 2:00 pm. to 4:00 pm. and 7:00 pm. to 9:00 pm. COVID 19 restrictions and protocols in effect. Masks mandatory. NLVaxPass required for entry. Visitation will be done by admitting one bubble/car at a time. As wakes are prohibited at this time, visits are to be kept to a minimum time frame to allow waiting visitors, entry.
Funeral service will take place at St. Andrew's By The Sea United Church, Old Perlican on Friday, February 4, 2022 at 2:00 pm. and sadly, due to modified Alert Level 4 capacity restrictions, will be by invitation only.
Following the service a processional will leave the church and follow a designated route as they motor to the cemetery where interment will take place.
You are most welcome to join the motorcade or the service at the cemetery (masks mandatory within the cemetery gates).
As an expression of sympathy, flowers gratefully accepted or a donation may be made to the family to be used towards a gift to St. Andrew's By The Sea United Church in Alex's memory.
>Click here to View Condolences
Service Date
Friday, February 4, 2022